VWBPE 2015 Keynote: Jay Jay Zifanwe
Sorry, only registred users can create playlists.
Description
Saturday, March 21, 2015, 4:00 p.m.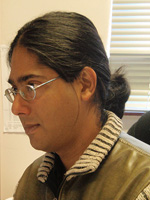 Jay Jay Jegathesan (SL: Jayjay Zifanwe) holds a Bachelor of Commerce (Hons) from the University of Western Australia (UWA), majoring in management and marketing.
He has since 2008, been manager of the School of Physics at UWA and is the founder and leader of the UWA presence in 3D virtual worlds. His research interests extend to looking at groups of artists, film makers and educators through the lens of Communities of Practice, as well as investing how perceptions of institutions when experienced through virtual technologies are able to impact on and influence perceptions of the real. He was shortlisted into the top 10 for the 2010 International Linden Prize for his work using virtual technologies, and was a review panel member for the Australasian Journal of Educational Technology (AJET), Springer, United Kingdom and was an associate editor for The International Journal of Interdisciplinary Social Sciences.
Keynote Speakers: http://vwbpe.org/conference/vwbpe-2015-keynotes-and-featured-speakers
Post your comment